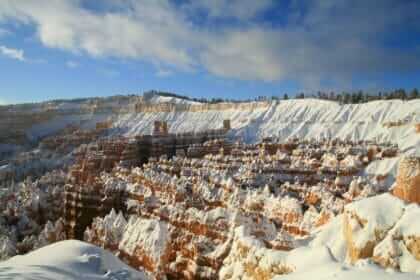 The Bryce Canyon Winter Festival has been a family favorite event for many years and takes place over President's Day Weekend (February 13-15). The best part of the Bryce Canyon Winter Festival? MOST ACTIVITIES ARE FREE. We have families travel to Bryce Canyon City to enjoy this wintry event, but did you know locals can also enjoy this event? Here are our top 5 things for locals to do during the Bryce Canyon Winter Festival:
Make Your Own Pottery: Get your hands dirty playing in the mud! Watch pottery being made on a wheel and try your hand and creating a masterpiece using basic hand building techniques. Fun for potters of all ages. We also have local teachers this year- Sara Syrett and Kara Syrett will be teaching the pottery class for the 2nd year in a row. You get to watch our teachers create pieces of pottery on their pottery wheels. Kids love to watch the magic behind the wheel.
Free Family Dance: Fun for the whole family. Dance the night away with one of our local DJ's with your entire family. Of course, we ask that your group keeps your distance from other dancers, but that doesn't mean you still can't have some fun.
Basic Line Dancing Instruction: Join us for western dance instruction. Fun for the whole family.Colleen West is an Associate Professor of Dance at BYU. She specializes in teaching and chore-graphing in the styles of world dance and tap dance. She has taught for over 25 years.
Kids Snow Boot Races: Fun for kids. Bring your kids to the archery range area. Make sure they are wearing boots so they can run in the snow. This very short, fun race will be divided into several age groups.
Cookie Decorating & Kids Crafts: Use your creativity to decorate a Valentine themed cookie. This class is for all ages. You can also bring the kids and enjoy a variety of projects that are easy and fun to create. Small children should have a helper come along.
Don't let us influence your decision. You can choose any events from our schedule.  We would love to see each of you and your families. Make this a new tradition for your own family. If you find an event that requires registration, follow the Online Registration information below.
Each day is jam packed full of scheduled activities. Our schedule of events as well as online registration links will be available on our website at www.rubysinn.com/bryce-canyon-winter-festival/. They will also be posted on our social media pages: Facebook- @BestWesternRubysInn, Instagram- @bwrubysinn. With online registration, there will be no need to wait in line. You can register from the comfort of your own home.  Registration will be available Friday, February 12, 2021 at 8 PM.
If you need ideas to entertain your family for the entire President's Day Weekend or maybe just for the day, visit Ruby's Inn at Bryce Canyon City. No matter the age, or temperature you prefer, there is something for everyone to enjoy at the Ruby's Inn Winter Festival.
https://utah.com/events/bryce-canyon-winter-festival