Ruby's Inn - Premier Horseback Riding
Retrace trails taken by the notorious outlaw Butch Cassidy. Discover the hidden secrets of Red Canyon, the beauty of Utah's Dixie National Forest and the solitude of the Wild West!
Explore beautiful Red Canyon on Horseback! In Red Canyon you'll find scenery and terrain nearly identical to that of Bryce Canyon National Park. Unique Red Rock formations, "Hoodoos" and Ponderosa Pines make this canyon exceptionally scenic. Half Day, All Day, and Adventure Rides are available. This is the West and do we have horses! Horseback rides are perfect ways to explore the area and experience a Western Adventure that will be remembered for many years. Trail rides and information are available at Best Western Plus Ruby's Inn. Rides are available for all ages and from novices to wranglers.
The Thunder Mountain Trail climbs along the ridge in Red Canyon. It winds through the ponderosa forest and overlooks the hoodoo formations of the area. It continues down the switchbacks to the bottom of Red Canyon. This ride is designed for experienced riders and leaves Ruby's Inn at 9:30 a.m. daily. Click Here for more information.
Children must be at least 7 years old.
Some rides may have weight restrictions.
Bring water, camera, and (jacket in spring & fall).
Visit Ruby's Horseback Adventure Website
Ruby's Wagon Ride Adventures Take a horse drawn wagon ride through the National Forest to the Rim of Bryce Canyon National Park. This scenic ride is sure to take your breath away while creating memories that will last a lifetime. Click Here for more information.
---
---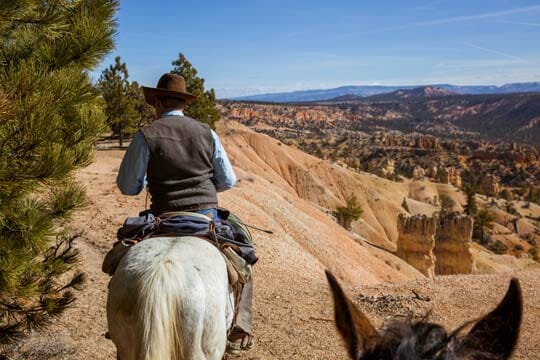 We offer a great ride through the scenic Grand Staircase region throughout the year. The Willis Creek Ride lasts 4 and a half to 5 hours. Beginner to advanced riders will enjoy several drainage, canyon, and narrows region with opportunities to see petroglyphs that ancient Indians left behind. Experienced riders will enjoy a chance to trek through cedar and pinion country.  Children must be at least 10 years old to participate in all of these rides. Visit our
Grand Staircase Rides
page for more information.
Winter rides are by reservation only, 48 hours in advance.
Grand Staircase - Escalante National Monument Horseback Riding
Horseback riding at Bryce Canyon may be the best way to experience the American West and Bryce Canyon National Park all at once. Oh, and what is the American West without a rodeo? That's right, along with Bryce Canyon's unique trails, we also hold several rodeo's throughout the summer! This is why we've situated the best accommodations for our visitors and their horses. The Horse Motel offers parking for your horse trailer, as well as stalls for your horses. Visitors can choose from dry camping, to full hookups (water & power). Bring your whole posse and the horse trailer too, we've got a place for you!