Bryce Canyon National Park Shuttle
Schedule
The Shuttle ride to Bryce Canyon National Park is Convenient and Free with Park Entrance Fee Reasons to ride the Shuttle:
Relax and enjoy the sights
Avoid parking and traffic congestion.
Receive insights regarding park history from drivers
Much More!
Save Time and Purchase Your Digital Pass Now!
Proof of admission must be shown to the bus driver when boarding outside the park. If you have an Interagency Annual, Access, or Lifetime Pass, simply show your pass to the driver when you board.

If you need to purchase a pass, you can purchase a Digital Pass via Recreation.gov. A $35 Vehicle Pass will cover you and all the occupants of your vehicle for use of the shuttle and private vehicle entry into the park.
The shuttle is seasonal (mid-April to mid-September) and runs about every 15 to 20 minutes, depending on time of day. For the most current shuttle information
click here.
Visitors may board the shuttle in front of Ruby's Inn or at the
Campground and RV Park
. Stops at the visitor center in
Bryce Canyon
and view points in the park. Great for hikers and bikers, too.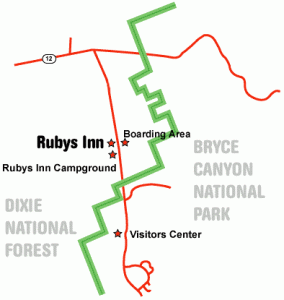 Where to park your car when you take the shuttle
---
When you take the Bryce Canyon Shuttle, parking is available at the Bryce Canyon Shuttle Station (165 S. Main St.), leave your car/RV parked at your campsite & hotel room or you can park in Ruby's long-term parking area. Ruby's Long Term Parking is located along the East side of Main St. (highway) between Center St. and 100 North. Please do not park in front of Ruby's Inn Main Lodge or General Store.
Please check out first.
Ruby's Campground checkout time is 12:00 noon. Checkout for cabins and tipi's is 11:00am. Checkout for hotels is 11:00am. If you take the Bryce Canyon Shuttle on the day you are checking out and you cannot be back before checkout time, please vacate the campsite before you board the shuttle. Park in the Bryce Canyon Shuttle Station Parking lot.
$35.00* Park Entrance Fee includes Shuttle.
The Bryce Canyon National Park entrance pass costs $35.00 per private vehicle, which includes shuttle transportation. The pass is valid for 7 days.
---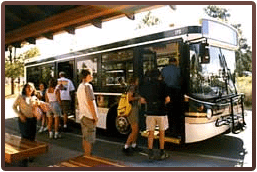 Annual National Park and Federal Recreational Lands Pass - Best Value!
If you plan to visit several National Parks and Monuments within a year, you may want to buy an annual pass. The pass costs $80.00 and is valid for one year from the date of sale. It is available at Ruby's Inn, at the Ruby's Inn Campground Office, and in the Park.