Bryce Canyon Area Worship Services
---
The Church Of Jesus Christ Of Latter Day Saints
Tropic Ward
When: Every Sunday
Time: Sacrament Meeting- 10:00 a.m.
11:10 a.m.
Sunday School is held on the first and third Sundays. Priesthood quorums, Relief Society, and Young Women meetings is on the second and fourth Sundays. Meetings on the fifth Sunday is under the direction of the bishop. Primary is be held each week during this same 50-minute period.
Where: 41 North 100 West Tropic Utah, 84776
Phone: 435-679-8657
---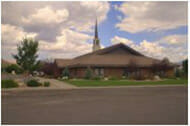 ---
The Church Of Jesus Christ Of Latter Day Saints
Bryce Canyon Branch
When: Summer season only from Memorial weekend through Labor Day weekend.

Time: Sacrament: 3:00 p.m.
     Sunday School: 4:10 p.m.
Where: Best Western Plus Ruby's Inn upstairs Conference Center Manzanita Room
---
A Christian Ministry in the National Parks
Interdenominational
When: Summer season only

Time: 8:00 a.m. on Sundays (North Campground Outdoor Theater)
9:30 a.m. on Sundays (Bryce Lodge Auditorium)
Contact: 303-220-2808
---
Bryce Canyon Bible Church
Interdenominational
When: Thursday

Time: Bible Study at 6:30 p.m.
Dress: Dress is casual. Come as you are, and feel free to wear your hiking outfits to our church service.
Where: 1041 N. Hwy 12, located one mile north of the town of Tropic on Scenic Byway 12.
Only 10 miles from the entry of Bryce Canyon National Park.
Contact Info: 435-679-8040
---