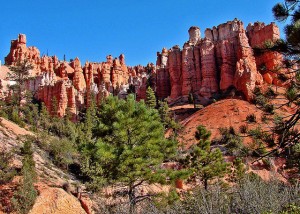 If you are planning a trip to Bryce Canyon National Park you don't want to miss out on a trip to nearby Red Canyon. When you visit the beautiful canyon with its stunning hoodoo formations, red cliffs, pink soil, and ponderosa pines you will wonder why the area was not incorporated into the nearby national park. However, after spending some time there, you will come to understand why being Bryce Canyon's lesser known neighbor has its advantages. 
Red Canyon is equally saturated with geological treasures, but is free from the masses of tourists that pack the trails in Bryce. In Red Canyon you will be left to enjoy the beauty and wonder of the canyon in solitude. Click here for exciting horseback trail ride opportunities in the Bryce Canyon region. Retrace trails taken by the notorious outlaw Butch Cassidy. Rides/Lodging Packages - www.horserides.net
Red Canyon is located along Scenic Byway 12, nine miles outside of Bryce. If you are planning to enter Bryce Canyon from the west, you will pass right through it. Because Red Canyon is part of Dixie National Forest, rather than a national park or monument, there is no fee to enter the canyon. Another bonus to visiting Red Canyon is that, unlike Bryce Canyon, bikes and ATV's are allowed on many of the trails. Your first stop when visiting Red Canyon should be the new visitor center, which was completed in the winter of 2004.
Inside of the Red Canyon Visitor Center, located along the main highway, you will find free maps showing the different hiking, biking, and ATV trials as well as information about camping, picnicking and sightseeing.
The highway through Red Canyon travels alongside a wash that is dry most of the year, on the far side of the wash is a newly resurfaced bicycle track. This peaceful trail will take you past a variety of pink, orange, and red rock formations and through patches of ponderosa and bristlecone pine trees. From Red Canyon you can also access Losee Canyon and Casto Canyon, also part of Dixie National Forest. These canyons are little known scenic gems that you won't want to miss out on in your rush to visit the more famous Bryce Canyon. There are exciting horseback trail ride opportunities in this region.