Ruby's General Store has a wide selection of:
---
Fresh Produce
Meats
Groceries
Snacks
Ice
Area books
Audio & Video Tapes
Photo Supplies/Digital Media
Toys
Native American Arts & Crafts
Magazines
Rocks
Automobile Supplies
RV Supplies
T-Shirts
Jewelry
Pottery
Music CDs
Toiletries
Compact Disks
Batteries
Post Cards
Hats
Western Apparel
Coats & Outerwear
Hiking Supplies
Souvenirs & Gifts
Camping Equipment & Supplies
US Post Office
Browse our unique shops located across the street from Ruby's Inn Main Lodge. Enjoy hard ice cream, premiere candy, home baked cookies, and browse through the large variety of Holiday and Home decor. Stop at Old Bryce Town for information. Open daily from 8:00 am to 10:00 pm May through September. Closed during the winter months.
Call (435) 834-5355 extension 7970
---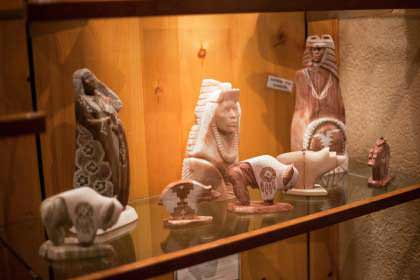 We have hundreds of unique artifacts in our western art gallery. Browse through collections of historic memorabilia from the wild west to ancient artifacts from the Native American Indians.