Guided ATV Tours:
To The Rim Of Bryce Canyon
Turn your stay in the Bryce Canyon area into an adventure that you will not soon forget. Guided ATV rides are a fun and exciting way to explore areas in the lesser known parts of the region. A short, yet exciting experience, our one-hour ATV ride winds through ponderosa pine forests to the rim of Bryce Canyon National Park.
These guided tours will get your adrenaline pumping, but will also provide you with views of a pristine alpine landscape, the Bryce Canyon Rim and fresh clean air. See some of the most incredible scenery that is seen by very few!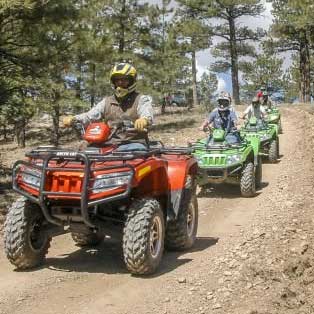 Call Ruby's ATV Tours at 435-834-5231 for information and reservations.
Rides start from the Bryce Canyon Auto Care Center (Sinclair Station) at 105 S Main St Bryce Canyon City, Utah.
Guided ATV Tours OPEN April 1 through October 31
*Weather and Trail Conditions Permitting
(Closed November 1 through March 31)
We provide: Helmets, goggles, scarf (for dust), ATV instruction and ATV. 
Please bring: Bottled water, and camera.
What to wear: Long pants or blue jeans and closed-toed shoes.
MUST BE 16 YEARS OLD AND HAVE A VALID DRIVERS LICENSE TO DRIVE MACHINE 
Riders under 18 must  be accompanied by an adult.
Passengers must be at least 7 years old.
Guests must be at least 4'10" to ride on an ATV.
Ruby's Inn reserves the right to change, alter or cancel any tours.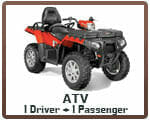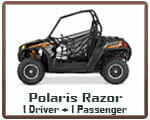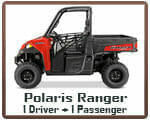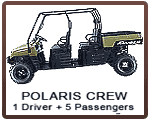 One Hour Ride Price:
ATV: $90
Ranger: $125
Razor 570: $130
Ranger Crew: $185
Time:
8:30 a.m. from June 1 - Aug 31 10:00 a.m., 11:30 a.m., 1 p.m., 2:30 p.m., 4 p.m., and 5:30 p.m. from June 1 - Aug 31
Reservations are recommended to confirm your desired ride time. Please check in at least 20 minutes prior to ride departure time.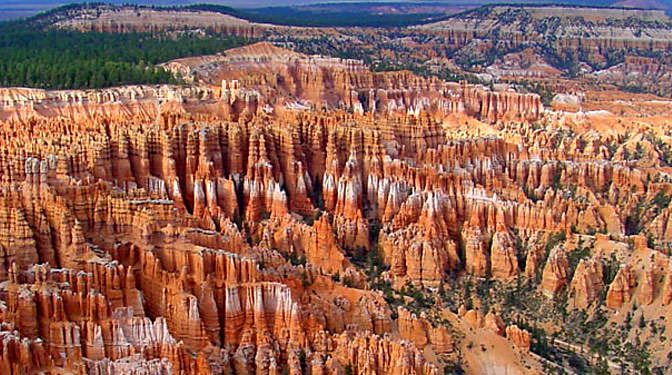 Bringing your own ATV / UTV?
Click here to learn more about great ATV trails near Bryce Canyon and Ruby's Inn!
Free ATV trail maps at Ruby's Inn Activities Desk, Ruby's ATV Tours and Sinclair Gas Station.
Contact the Ruby's Inn Activities Center for more information at 435-834-8032.