Grand Staircase National Monument
The Grand Staircase-Escalante National Monument begins near Ruby's Inn and is a very unique region of canyons, arches, plateaus and cliffs. This area, which comprises 1.7 million acres, was designated a National Monument just recently in 1996 and is considered to be one of the last explored areas of the continental United States.
Bryce Canyon National Park lies to the south and west of the monument; Capitol Reef National Park is to the North and Glen Canyon National Recreation area (Lake Powell) is to the East. Scenic Highway 12, one of the top-ten scenic byways in America (Car & Driver Magazine) passes through the Grand Staircase and is the major access road for the monument.
Various Native American Indians and their dwellings have inhabited this area for nearly 2,000 years. Writings and even their food storage areas are still visible in the cliffs and canyons of this region. In 1776 Father Silvestre Velez de Escalante explored the region and had great difficulty finding a way to cross the Colorado River because of the maze of deep canyons and rivers. One hundred years later John Wesley Powell did significant research along the Colorado River and during that time frame many pioneers settled the valleys around Bryce Canyon and the Grand Staircase.
The Grand Staircase-Escalante National Monument is partly named for the Escalante River, which flows from Boulder Mountain to the Colorado River. Deep canyons and gorges have been carved over eons of time. These sandstone labyrinths with unusual rock shapes and slot canyons offer some of the best hiking and backpacking in the world.
When early geologists saw the series of cliffs and plateaus rising 6,000 feet from the Colorado River at the Grand Canyon to Bryce Canyon, they called it the Grand Staircase. Three billion years of geologic history make up the layers of sedimentary rocks. Each of the five "steps" has been eroded, revealing cliffs of distinctive color. Travelers can see the Grand Staircase from some of the viewpoints in Bryce Canyon.
Within the Grand Staircase there are more trails and areas for exploration than can be experienced in a year, but we can suggest some excellent places to go such as: Coyote Gulch, Bull Valley Gorge and Devil's Garden, just to name a few. If at all possible, you'll want to spend at least three to five days in this area, more if you can spare the time. Whether you want to experience scenic overlooks, slot canyons, ancient Indian pictographs and petroglyphs, waterfalls, rivers, mountains, forest or wildlife, you'll find it is all here in and around the Grand Staircase-Escalante National Monument.
The new monument by Presidential Proclamation is a natural treasure of minerals, wildlife and plant life. It was home to the Anasazi Indians and remains of their civilization are scattered throughout the area. (Be sure to stop at the Anasazi Indian Village State Park in Boulder and tour the museum and exhibits). It is a place of breathtaking vistas, desert flowers, canyons and plateaus, and scenery that changes with every turn. It is a place of solitude. It is also a recreational paradise for outdoor enthusiasts offering hiking, backpacking, fishing, camping, horseback riding, ATV riding and mountain biking. Guided hikes and pack trips are available locally, as well as horseback riding, ATV, llama, and Jeep tours.
The Bureau of Land Management manages theGrand Staircase-Escalante National Monument. When planning to visit the monument, travelers should contact the Interagency Office in Escalante (435-826-5499). Current information on the monument, road conditions, maps, and hiking information is available. You can access the Monument through two main avenues of travel. Visitors are enchanted by beautiful Scenic Highway 12 in the northern portion of the Monument. In the southern portion, Highway 89 between Kanab, Utah and Page, Arizona offers spectacular vistas of the vermilion cliffs layer of the Grand Staircase geologic feature.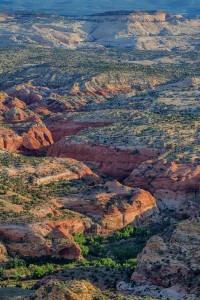 Other roads that are partially surfaced include the Burr Trail (to Capitol Reef National Park) and Johnson Canyon (to the Skutumpah turn off). Gravel roads include the Glendale Bench road and a portion of Hole-in-the-Rock road. Driving conditions on sandy and clay roads, such as cottonwood (connecting Kodachrome State Park with Highway 89), Smoky Mountain, Skutumpah, and Croton depend on weather and current maintenance status. Please check current road conditions before traveling on these routes.
Hiking: Perhaps the best way to experience the diverse terrain of the Monument is to walk through it. Even though developed trails are nearly nonexistent, there are hundreds, if not thousands, of miles of outstanding hiking routes found in the Escalante Canyons, the upper Paria drainage, and other areas. Spring (March through May) and Fall (September through October) are usually the ideal times to hike or backpack. A good map and route finding abilities are a must. Self-register at established trail heads or obtain a free backpacking permit at the Interagency Office if backpacking in the Escalante region. Please leave no trace of your passing.