Saddle up for a summer your family will always remember as you wind the scenic highways and
byways leading towards the entrance of Bryce Canyon National Park. Unload the family at
Ruby's Inn for a fantastic stay while you gear up for days' worth of adventures.
Fulfill all your family's summer dreams with days spent hiking, biking, swimming, horseback
riding, flying and ATVing. Plus, enjoy great food, country music and a day spent at the rodeo.
Venture out on one of the many trails in Bryce Canyon National Park, Kodachrome Basin State
Park, Grand Staircase-Escalante National Monument and Red Canyon.
Hiking
Get up at sunrise or set out in time for sunset to see a sight unlike any other overlooking vibrant
red-rock hoodoos while hiking the Rim Trail from Ruby's Inn. Wind your way through the
amphitheater of Bryce Canyon or hike near the towering sandstone pipes of Kodachrome Basin.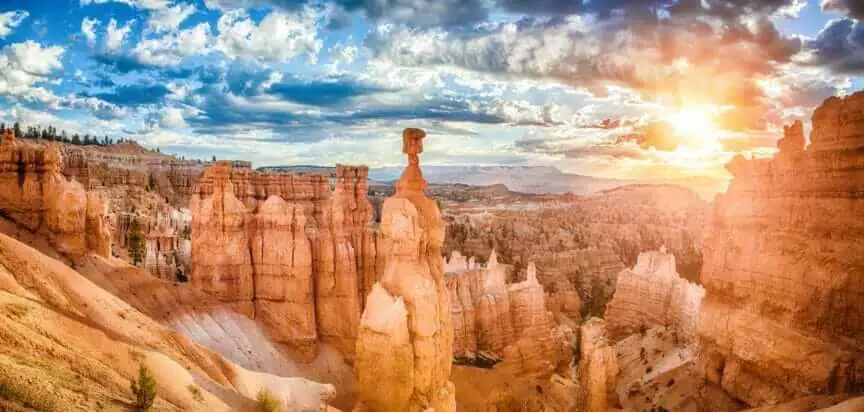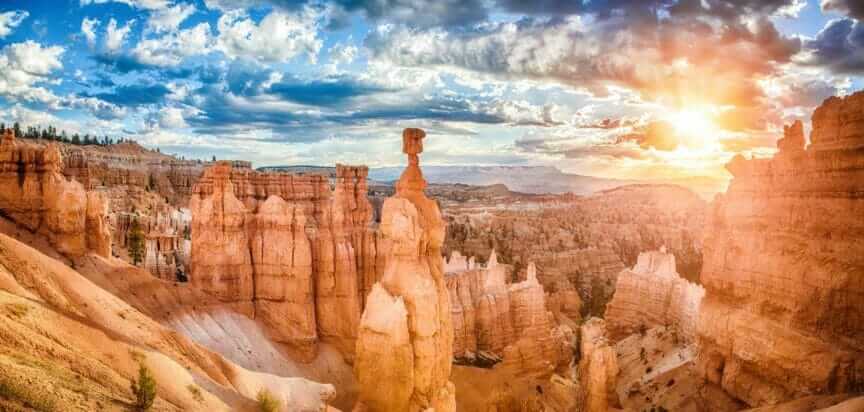 Biking
Set off under the shade of the Ponderosa pines lining the family-friendly Canyon 2 Canyon trail
that starts at Inspiration Point in Bryce Canyon, leading riders all the way to stunning Red
Canyon. Or choose a challenging ride like the Thunder Mountain Trail with its switchbacks and
inclines to an incredible view of Red Canyon.
Swimming
Ready to sit back, relax and work on your tan? Each of Ruby's Inn's properties, including the RV
Park and Campground, house refreshing swimming pools. Perfect for cooling off in the summer
heat.
Horseback Riding
Transport yourself back into the Wild West, following the steps of infamous outlaws like Butch
Cassidy and the Sundance Kid on horseback. Travel along time-worn trails with an experienced
guide leading the way.
Flying
Take a gravity-defying ride on one of the scenic flights that fly you over the sites of Southern
Utah. See the amphitheater of Bryce Canyon from a birds-eye view.
Want to keep your feet on the ground, but still get the chance to see Southern Utah from
above? Try the Soarin' Over Southern Utah VR experience for a virtual ride over the rich,
red-rock landscapes unique to Utah.
ATVing
Rev up your engines and start climbing the rugged terrain on ATV. Choose from multiple trails
offering scenic views and thrilling rides. Want a guide to show you all the best paths? Take a
guided ATV tour around the Rim of Bryce Canyon.
Dining
No trip is complete without a delicious, mouth-watering meal. Choose from the Cowboy's Buffet
and Steak Room or the Canyon Diner for a hearty spread of classic favorites. Sink your teeth
into a tender steak, bite into a burger or dine on some pizza. No matter what, you can expect to
be satiated and content.
Viewing
Grip the edge of your seat watching bucking broncos, barrel racing, roping and some good ole
mutton bustin' at the Bryce Canyon Rodeo.
Nothing says the Wild West like an evening enjoying live country music. Enjoy some of
Nashville's finest, The Bryce Canyon Wranglers as they sing classic country favorites, originals
and current popular songs.
No matter what escapades you and your family set out on, Ruby's Inn is the perfect place to
redefine how you spend family time. Finish summer off with a bang and 20% off your room
when you book with the code Summer20.
Want to wait out the heat and wait for kids to be back in school so you have the area to
yourself? Autumn is the perfect time to visit with fewer crowds and cooler weather. Plus, the
area is stunning dressed up in its autumnal colors.
Your next adventure is calling. Plan your trip to Ruby's Inn by visiting rubysinn.com.