Bryce Canyon City is full of accommodation options for your next Bryce Canyon National Park vacation. Bring your friends and family and enjoy the beautiful surroundings of Southern Utah and Bryce Canyon Country. We have accommodation options for every person: comfortable & quiet, family friendly, avid campers and RV sites, and also for those on a budget.
Let's take a look at all of our accommodations available to those traveling to Bryce Canyon National Park.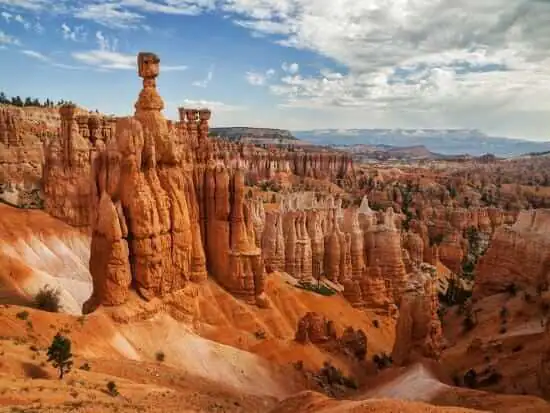 Best Western Plus Bryce Canyon Grand Hotel
The Highest Rated Hotel in Bryce Canyon
The Best Western Plus Bryce Canyon Grand Hotel offers the newest luxurious accommodations for visitors to Bryce Canyon National Park, Utah. The Bryce Canyon Grand Hotel features: interior corridors, a large lobby, business center, exercise facilities, guest laundry, complimentary breakfast buffet and nearby full service restaurant. The Bryce Canyon Grand also offers an enclosed courtyard offering guest privacy for the pool, whirlpool, and patio areas. We invite you to experience Bryce Canyon's newest and most luxurious accommodations and amenities with the best in western hospitality.
Experience personalized customer service at the Best Western Bryce Canyon Grand Hotel, located just off Southern Utah's Scenic Byway 12, and next to Bryce Canyon National Park. Our luxury hotel offers a variety of guest room types, the finest amenities, and a complimentary hot breakfast. For our guests that need to work while on vacation, each room has been designed with the needed features that will keep you connected. Meeting rooms are also available for corporate meetings, retreats, or family reunions.
World Famous
Best Western Plus Ruby's Inn
Ruby's Inn at Bryce Canyon is also a destination in and of itself. You'll enjoy Horseback Riding, Mountain Biking, Guided ATV Rides and Helicopter Tours, along with western experiences such as Rodeos and more.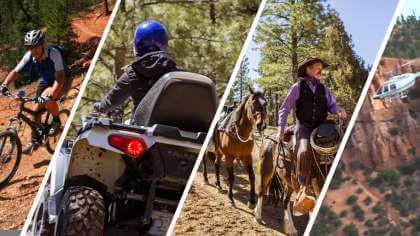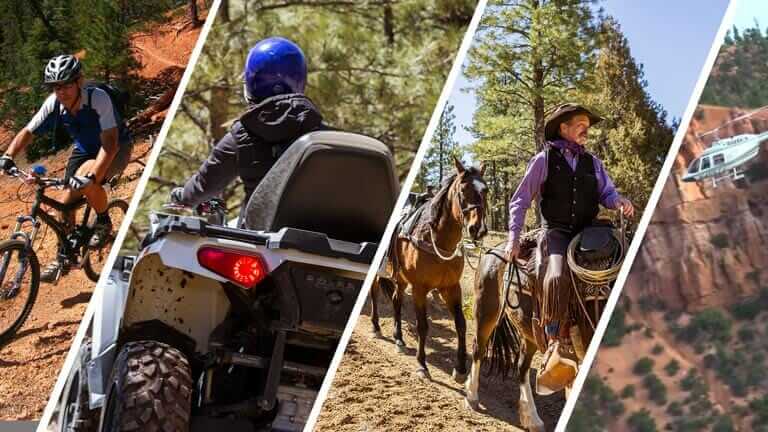 You'll find our Gift Shop and General Store to be the largest of it's kind in the Bryce Canyon area, boasting an impressive selection of authentic Southwestern Indian arts and crafts including jewelry, pottery and weavings. Our General Store also sells many other important items such as groceries, camping gear, clothing, shoes and more. Be sure you check out our Rock Shop featuring rocks, fossils, minerals and petrified wood.
Relax after a long day in our indoor heated pool and spa. We also offer a fitness center equipped with anything you might need while on vacation. If you are working from home, visit our business center for access to computers and printers. The Cowboy Buffet and Steak Room is also attached to our main lobby for all of your meals. Don't forget about the included breakfast for each of our guests.
Budget Friendly Hotel
Bryce View Lodge
The Bryce View Lodge offers the finest in Bryce Canyon lodging. Located next to Bryce Canyon National Park on Highway U-63 in Southern Utah, this perfect Bryce Canyon lodging is nestled at the edge of a pine forest on a high plateau that overlooks the beautiful Bryce Canyon National Park.
Our guests enjoy clean, comfortable rooms and full amenities including swimming pools, spas, restaurants and shopping, all located within an easy stroll of Bryce View Lodge.
We're excited to show off our facilities and we welcome you to Bryce Canyon with a great American Cowboy "Howdy!" Please take a few minutes to check out our amenities, attractions and activities.
Adventurous Souls
Ruby's RV Park and Campground
Traveling with all of the comforts of home? Ruby's Inn Campground has parking available for RVs, camp trailers and campers. All of the 150 shady and open campsites have electric and water, or FULL hook-ups as well as a large pull-through area for the driver's ease and comfort.
Rather stay in a tent? Set-up camp at one of Ruby's beautiful campsites nestled in the pines. It's the best chance of star gazing outside of the National Park.  Head out for a day of exploring in some of Utah's most breathtaking country including Bryce Canyon National Park in our own backyard.
At the end of the day campers can use restroom and shower facilities or the outdoor heated pool before settling in for a quiet, relaxing evening under the stars. There are no extra fees to use the facilities, it's all included in the low nightly rate!
If you are really looking to rough it, you have to try camping in our tipi. Each tipi can sleep up to eight adults comfortably. The tipi offers no electricity, plumbing or beds, so guests will need their sleeping gear and possibly some camping chairs. This will give you the most rugged experience in the West. Those staying with the Ruby's Inn Campground Tribe are welcome to use the rest rooms and shower facilities at no extra charge. Staying in a tipi at Ruby's Inn will make you feel right at home in the beautiful scenery of Bryce Canyon National Park.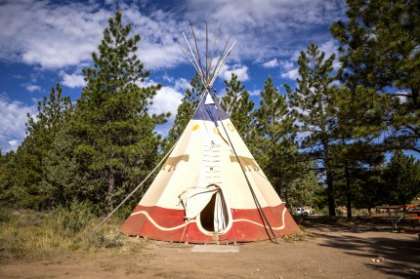 Spend a night, weekend or week living the frontier life! The Ruby's Inn Campground offers rustic log cabins that can comfortably accommodate up to four people. Each cabin offers electricity, log bunk bed style double beds and picnic style table. Guests will find modern day "outhouses" nearby. Access to the restroom and shower facilities are included in the low nightly rate.
Traveling with a group of family, friends or co-workers? Ruby's Inn Campground has several larger campsites available to accommodate larger groups whether they're packing tents or staying in an RV or camp trailer.
We hope this guide will help increase your Wanderlust for adventure. As you can see, Bryce Canyon City and Ruby's Inn has a wide selection of accommodations available to those visiting Bryce Canyon National Park Vacation. We have something for everyone and being only 1 mile from the best hiking spots, you can't go wrong here.