The Bryce Canyon Winter Festival has something for everyone. There will be Free clinics, demos and tours. Events may be subject to change due to snow and weather conditions, but the Bryce Canyon Winter Festival will be held regardless of snow conditions.
Activities Include:
Cross Country Ski Tours
Kayaking Demos
Snow Sculpture Contest
Snowshoe Tours and Races
Waxing Clinics
People-powered Sled Race
Archery Clinic
Photography Clinics
Kids Snow Boot Races
Ski Archery Competition
Photo Contest
Entertainment
Ski archery competition takes place on Sunday and the Cross Country ski races on Monday. If you would like to participate with us this year or would like more information, Call: (435) 834-5341 or 1-866-866-6616.
For a detailed schedule visit www.rubysinn.com
Evening Balloon Glow
Pilots                                           Balloon Name
Sally Bartch – Panguitch                      Arizona Dawn
Kent Barns – Murry Ut                        Heat Wave
Philip Heinrich – Phoenix AZ               Patience
Thayne Peterson – Lindon Utah           BelleStar
John Ware – SLC. UT                          Whoo'z Up

Guest Speaker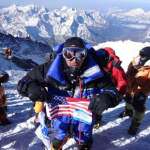 Brother David Roskelley will share faith promoting stories about his recent trip to the top of the world (learn about doing hard things)
February 19, 2017
8PM
Red Canyon Conference Room
Mr. Roskelley has  Masters degree in Public Health (MSPH) from the University of Utah and currently teaches as an adjunct faculty member. Mr. Roskelley is founding partner of R&R Environmental, Inc. a comprehensive safety, health, and environmental consulting firm based in Sandy, Utah. He is married to his wife Lynda (21 years), has three sons, and lives in Alpine, Utah.
Mr. Roskelley is also an avid mountain climber. He most recently summited Mount Everest on May 19, 2013. He has set a personal goal to climb the "7 summits" or the seven highest mountains on each of the seven continents. To date he has climbed all seven and accomplished his goal.