BRYCE CANYON CITY, Utah — Historic Ruby's Inn near Bryce Canyon National Park is thrilled to announce its upcoming free summer concert series in celebration of Bryce Canyon National Park's Centennial Celebration. A pair of extraordinary events have been confirmed: the official Centennial Ceremony and Concert with The Piano Guys on June 8, 2023, and a stop on the Music Elevated Tour by the Utah Symphony on August 10, 2023.
Ruby's Inn is honored to be part of the festivities as the park commemorates its centennial anniversary. Established in 1916, the family-owned resort has watched the development of Bryce Canyon, which was first designated as a national monument in 1923. Since then, Bryce Canyon National Park welcomes millions of visitors from around the world each year to experience its stunning cliffs and hoodoos. On this special year, Ruby's Inn is eager to provide a remarkable entertainment experience with incredible views for locals and tourists alike. The resort is especially excited to see its very own Bryce Canyon Wranglers open for the internationally touring instrumentalists on June 8.
"We are beyond thrilled to host the Summer Concert Series as part of Bryce Canyon's centennial celebrations," said Lance Syrett, General Manager of Ruby's Inn. "We believe these concerts will not only entertain and inspire but also foster a deep appreciation for the incredible natural beauty of Bryce Canyon National Park."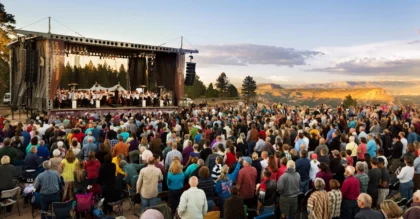 Information about centennial events throughout the year can be found at brycecanyon.org. Tickets can be reserved for the concerts through Southern Utah University and on the Utah Symphony website. Attendees are encouraged to secure their tickets early, as space will be limited due to the open-air venue and anticipated high demand. Plan to bring your own seating options.
###
About Ruby's Inn:
Since 1916, Ruby's Inn has been making it easy for visitors from around the world to experience the epic scenery of Bryce Canyon National Park. Ruby's Inn is located at the entrance to the park and offers the closest lodging with everything from luxury hotel rooms to RV parks and campgrounds. Ruby's Inn is open year-round and has exclusive access to canyon overlooks for horseback riding, ATV riding, horse-drawn sleigh rides and snowshoeing. The Ebenezer's Barn and Grill entertains crowds nightly from April through October with a western dinner show and cowboy grub. The General Store provides fuel, groceries, camping gear, clothing and souvenirs. To plan your vacation, visit www.rubysinn.com  or call 1-866-866-6616.
About Bryce Canyon National Park:
Bryce Canyon National Park, located in southwestern Utah, is part of the National Park Service, within the Department of the Interior. This 33,000 acre natural wonder is known for its unique geological formations and stunning panoramic vistas. With its famous hoodoos, natural amphitheaters, and expansive red-rock landscapes, this park offers visitors a truly awe-inspiring experience. Throughout its 100-year history, the park has offered ranger-led programs, dark-sky areas and tranquil camping amidst nature. Discover the breathtaking beauty of Bryce Canyon National Park and witness nature's artistry firsthand. For more information, visit www.nps.gov/brca