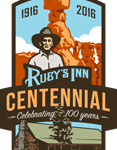 Media Contact:
Sorenson Advertising
435-216- 9418
[email protected]
Ruby's Inn Celebrates 100 Years of Service to Visitors of Garfield County
Bryce City, Utah (November 18, 2016)— Ruby's Inn held a celebration for employees, friends and family of the now 100-year old hotel this past weekend. The celebration included a private concert as well as dinner and lunch for guests.
The historic establishment has been family-owned since its opening in 1916 and is now run by Ruby's great-grandson, Lance Syrett.
"This event was really an opportunity to show our gratitude to the many people who have been instrumental in the success of Ruby's Inn," Syrett said. "Our family is so grateful for this incredible community of coworkers and friends who make Ruby's a welcoming place for people who come from all around the world."
Today, Ruby's Inn has become Garfield County's largest employer and takes pride in being the closest lodging to Bryce Canyon National Park. The lodging grew into multiple buildings, an RV Park and campground, and even a main street reminiscent of the Old West. In 2007, the property even became its own town known as Bryce Canyon City.
It was in 1916 that Rueben, 'Ruby,' Syrett brought his family to southern Utah and established a ranch near present day Ruby's Inn. He soon learned about Bryce Canyon, and after seeing the impressive scene he knew it was something special. Ruby spread the word about the beauty of the area to everyone he knew and got permission to build a 'tourist lodge' nearby.
"It hasn't been easy for the Syretts all these years," Syrett said. "It has taken a lot of hard work and dedication. My relatives who were managers before me were able to turn difficult times into great opportunities and grow the hotel into what it is today. I am very proud to be able to continue the family legacy today."
About Ruby's Inn:
Since 1916, Ruby's Inn has been making it easy for visitors from around the world to experience the epic scenery of Bryce Canyon National Park. Ruby's Inn is located at the entrance to the park and offers the closest lodging with everything from luxury hotel rooms to RV parks and campgrounds. Ruby's Inn is open year-round with a General Store that provides fuel, groceries, camping gear, clothing and gifts. To plan your vacation, visit www.RubysInn.com or call 1-866-866-6616.