Bursting fall colors, a soft breeze, the crunching of leaves — whatever fall looks like to you it's
calling your name at Ruby's Inn.
Make Ruby's Inn your one-stop shop to plan a fall getaway. Planning is easy with so many
activities available. Schedule them online before your trip or at the activities desk in the lobby
when you arrive. Horseback ride, mountain bike, ATV or hike through the illuminating yellow
quaking aspens and skyscraping Ponderosa pines. Crowds are small and the rates are affordable
so come to Ruby's Inn where we are ready to help you enjoy time in the spacious outdoors!
Bryce Canyon National Park
The iconic hoodoo park is always showing off but maybe differently than you've seen it before.
Open to visitors year-round, the warm fall colors bring a new look to the area. Hurry though,
because the fall foliage only lasts a few weeks.
Fall in Bryce Canyon brings cooler temperatures, beaming yellow aspens and a fresh-air serenity
throughout the park. As the leaves gently fall to the ground of Bryce Amphitheater it brings out a
crisp, earthy smell. Pick from several hikes that give you different scenery and views around
every bend.
Hikes to choose from:
● Sunset to Sunrise – 1 mile
● Rim Trial – choose from routes ranging from 1 mile to 11 miles
● Peekaboo – 5.5 miles
● Mossy Cave – 0.8 miles
● Queen's Garden – 1.8 miles
There are several others to choose from ranging from easy to strenuous difficulty.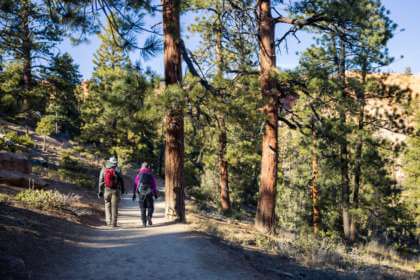 Ebenezer's Barn and Grill
The Ebenezer's Barn and Grill season is coming to an end October 24th. Get tickets now to see
the Bryce Canyon Wranglers perform one last time.
Christine McArthur from Google reviews describes her experience at the show, "If you come to
Bryce Canyon and miss the dinner show you have really missed a lot. Not only is the food
amazing but the show is incredible."
Don't skip out on the delicious selection of home style-cooked food: steak, salmon, chicken and
other sides and desserts. All of that with a side of country music will make a perfect evening.
Listen to the Bryce Canyon Wranglers perform country songs through the ages to present day.
You can even hear them perform some of their own songs that hit top country music charts. Like
Christine said, it's really a show not to miss.
Are you ready to plan your fall getaway? Discover other amazing places surrounding Ruby's Inn
where the fall foliage is vibrant like Red Canyon, beautiful Highway 12 and Kodachrome Basin
State Park. Plan your trip and book your room at rubysinn.com. We can't wait to see you there!
Sincerely,
Your Friends at Ruby's Inn