During Valentine's Weekend and our annual Winter Fest we asked guests to submit their photos of Winter Fest Activities and gorgeous Bryce Canyon!! We wanted to share a few samples of the great snap shots submitted through Instagram, find us at bwrubysinn, Twitter, find us @rubysinn or on our Facebook page, Best Western Plus Ruby's Inn .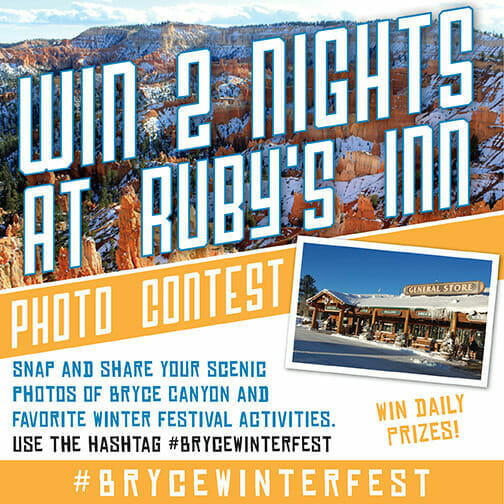 We have over 100 photos submitted!! There were great photos of Thor's Hammer, Inspiration Point, and even some of the critters that live at Bryce Canyon National Park! Follow us on Facebook to see all the submissions!
The grand prize photo submitted via Instagram from @whatiseefromhere won him a 2 night stay at the Bryce Canyon Grand Hotel!!
This photo was submitted by Robert Becwar snow shoeing in some of the snow found in Bryce Canyon National Park! There was a lot of spring like weather this year but there was still snow in the park!
This spectacular shot of the red rocks against the gray sky was submitted by Rustic Comforts via Facebook.
This gorgeous photo snapped by Terry Mair won him a $25 gift card! Just beautiful!
Thanks again to all who participated and everyone who came to enjoy Winter Fest with us this year!!