Bryce Canyon Area Main Events
Explore and play throughout the year around Southern Utah and Ruby's Inn.
Winter Activities: Enjoy cross-country skiing, snowmobiling or snowshoeing in the back country or participate in our scheduled events. Winter is one of the most colorful times of the year at Bryce Canyon National Park. The air is crisp and pure and you can see for hundreds of miles. The park is open all year and is accessible by automobile although sections of the road may be temporarily closed after a heavy snowfall. Cross-country skiing and snowshoeing are popular in the park. Gear up for any activity by visiting our store for gear and supplies.
---
---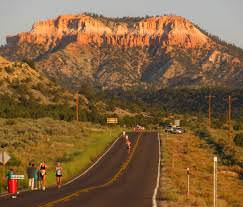 ---
Bryce Canyon Half Marathon - Click here for more information. The Half Marathon is an extraordinary run through scenic Southern Utah. Run through Bryce Canyon National Park along National Scenic Byway 12.